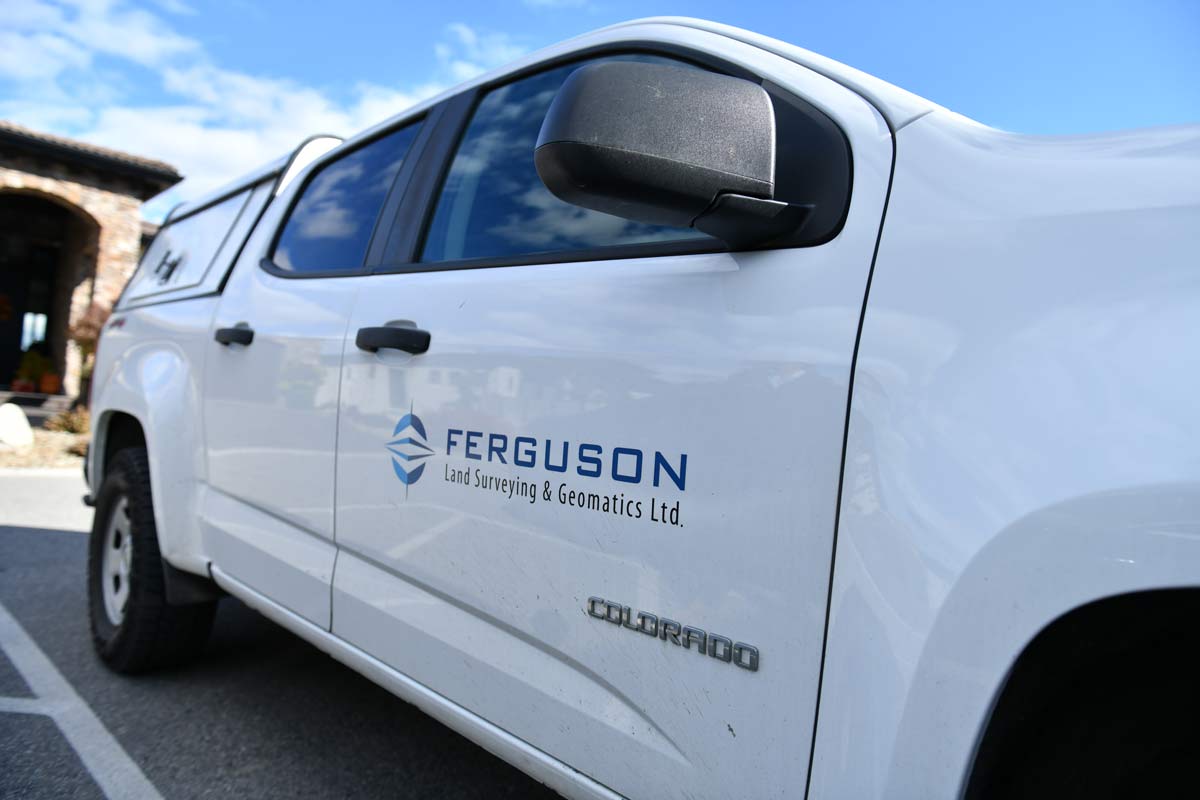 FLSG
Contact Us
Client satisfaction is our most important priority at Ferguson Land Surveying & Geomatics Ltd. We look forward to hearing from you.
Frequently Asked Questions
Have questions related to Land Surveying? Please contact us or refer to the frequently asked questions below.
What is Geomatics?
Geomatics is an applied science and engineering discipline that focuses on understanding geographic information. Geomatics professionals use modern technologies like GPS to manage, measure, analyze, and display geographic and spatial data for a variety of purposes including land development and planning, land surveying, designing, and more.

Geomatics professionals also have an obligation to use their knowledge and skills to maintain the quality and natural aspects of the environment where they work.
What is Land Surveying?
Land Surveying locates and measures the natural and man-made features of a given piece of land. A Land Surveyor uses various tools to determine elevation, angles, and property boundaries, often for commercial and residential building projects.
What is a BCLS?
A BCLS is a designation held by Land Surveying professionals. Only a BCLS is able to provide legal surveying services in British Columbia.

For more information about our profession, please visit www.abcls.ca.
What's involved in getting my property corners or property lines marked?
Property line surveys can vary in difficulty and cost depending on the size of your lot, the terrain, and the age of the legal survey plan. There are two possible scenarios we could encounter when we arrive to mark your property lines or corners:
Property boundaries are marked with official survey posts. If the official survey posts are found in place and agree with the registered dimensions of the survey plan, then stakes may be set to demark the boundary.
If the official survey posts at your property corners are missing, then a reposting survey is necessary to set new survey posts. We'll start by searching for previous survey evidence so we can recreate the positions of the missing corners as accurately as possible.
We'll also need to prepare a Posting Plan pursuant to Section 68 of the Land Title Act, and register it at the Kamloops Land Title Office.
With this done, your property corners will now be monumented with legal survey posts for future reference. You will also be provided with a copy of the Posting Plan showing the dimensions between the found and set monuments.
What is a Subdivision Approval Process?
There are different requirements and procedures for submission for Subdivision Approval depending on the jurisdiction of the property. We would be more than happy to assist you with your application.
The links below provide more information regarding the subdivision process for different areas.
*Rural Areas (outside of a municipality) are handled by MOTI (Ministry of Transportation and Infrastructure)